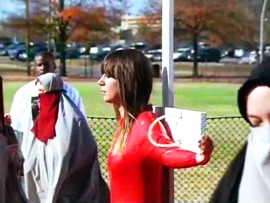 Music Video: Living Proof
Artisit: Cat Power
Genre: Rock
Release Date: 2003
Explicitness: notExplicit
Country: USA
Video Length: 3:11


Copyright: Cat Power
Music Video For Living Proof By Artist Cat Power
Reviews For Living Proof By Artist Cat Power
Sacraligfew teko

By grind man

Did any one else notice she was holding the cross not nailed to it. I sure did, and I am SO OFFENDED! Also, the "Nuns" seem to be running from da plague. Or mabye they are terrorists. I see you Osama

Great Song & Video

By gbailey3

The song is wonderful and the video made me laugh... and think. I find myself playing it over & over again so I can re-examine it and possibly catch something new this time around. On the surface it's an entertaining video with a great song. What makes the video rewarding is the sense that it was created from the same creative gift that makes Chan Marshall's music so endearing. This also means, however, that if you dislike the music of Cat Power, then you will likely not appreciate the video.

Cat Power

By woogie846

Cat Power is meaningful alternative rock with a message. Her videos are not just filled with cool dance moves and visual effects, but with symbolism expressing her thoughts and feelings on the world. So for all of you superficial corporate snobs, look a little beyond the video and actually see what Cat Power is trying to say.

Love Her

By GeorgeGeorge101

She's cool, i like it.

To the people who rated it low because they "Don't get it"

By DeadlyMuffin

You are stupid. 1. It doesn't HAVE to make sense to be good. An example of this would be Nirvana (You can't understand what they are saying.) 2. Have you ever heard of the movie "The Passion of the Christ"?

Whak

By Jaddy

This is crap dont spend ur money on this bull

This is stupid!

By G nasty

this woman is messed up! DO NOT BUY!!!!!!!!!!!!!!!!!!

freaky

By Cyclone13

i dont get what it means. its just really wierd!

awesome...

By iGod

This video is awesome...
Check Out The Music Video Discography From Artist Cat Power