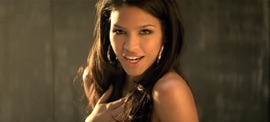 Music Video: Me & U
Artisit: Cassie
Genre: R&B/Soul
Release Date: 2006
Explicitness: notExplicit
Country: USA
Video Length: 3:32


Copyright: Cassie
Music Video For Me & U By Artist Cassie
Reviews For Me & U By Artist Cassie
Love this viedo

By Mirror dance.

Love it when a song matches the music viedo :)

Hot

By BrandonAmazing3

I got a boner when she was stripping . Omg she's soo hot!!!

Like it, love it!

By LovveebellabayP

The song is supa great and so Is thee video. I love this song, and the video is good..:))

classic

By Super billionaire swag

OfficialCas follow on twitter

Cassie(Me & U)

By JayMeister22

Hot video.

Jade likes Cassie

By JadeluvsMJ

I luv dis video. She rocks at dancing. Even though there should be another dancer with her. You go girl!!!!!!

STOP HATIN'

By D Banks$

yo all you haterz is dumb stoopid, this vid is tight. But wateva keep hatin cuz whether your hatin or lovin your still talking bout it.

@ the person below me

By dammbbbb

lip synchin MUSIC vid? Basically all music vids are like that..and while dancing like that, how would you expect to have great vocals?. Oh and to other people..yes its just her dancing alone in a room....but it is not boring one bit bkos she is soooooooooooo hot...this vid was aimed for guys like me(or girls) that just wana watch this goddess dance ;) thats why i bought it :-)

Love the song but.....

By justlexi21

The video is so boring. I mean, she's dancing in front of a mirror? That's weird. & Shouldn't there be someone with her? I mean the song title is "Me & You". Not "Me, Myself, & I". I know ya'll could have done a better job on this. Good song, but video? Definitely not mTV material.

Cassie Fan

By VampireSparklez

Luv the song.The video is ok.
Check Out The Music Video Discography From Artist Cassie