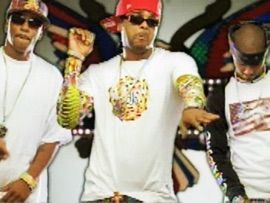 Music Video: We Fly High
Artisit: Jim Jones
Genre: Hip-Hop/Rap
Release Date: 2006
Explicitness: notExplicit
Country: USA
Video Length: 3:45


Copyright: Jim Jones
Music Video For We Fly High By Artist Jim Jones
Reviews For We Fly High By Artist Jim Jones
YOLO

By Ooooooooooooiooo

You only live ones

Candy shop

By Dalayzion

Where did u get that saleen

nice

By mr i hate this app

itunes please put we fly high (remix)

we flying high

By Ray1

jim jones is a good rapper great song and video

BALLIN!

By Patrick Lamothe

This song is tight, but the remix is way better. Man, they need to put the remix vid on itunes, and they need to put explicit versions of vids up!

annoying as hell

By HipHopIsDead770

just a one hit wonder. havnt u noticed your career is FALLIN'!!!

We Fly High

By Toye08

We Stay BALLIN!! Luv Diz Song!! Ya'll Shud Download Dis Shytz Itz oFf Da Shiznitt!!

we fly high

By arkangel17

not exceed

Amazing

By sami_marcy

This is an awesome song...so is the remix...there are tons of artists on the remix....but this was probably on every basketball warmup CD in the country...it was amazing...Jim Jones is my hero!!!

One Crazy Single!!!!!!!

By KawasakiMonster

This Is Jim Jones First Single Of Of His Album "Hustlers P.O.M.E. It Is An Awsome Video It Has A Really Good Beat Jim Jones Has Been Improving Ever Since He Had His 2cd Single "Emotionless" Id Say Emotionless Is A Good Video But We Fly High Has Way Better Lyrics Buy The Song. Near The End It Changes Beats It Really Cool And He Tell This Story & The End Just Buy It!
Check Out The Music Video Discography From Artist Jim Jones