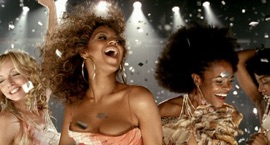 Music Video: Naughty Girl
Artisit: Beyoncé
Genre: R&B/Soul
Release Date: 2003
Explicitness: notExplicit
Country: USA
Video Length: 3:26


Copyright: Beyoncé
Music Video For Naughty Girl By Artist Beyoncé
Reviews For Naughty Girl By Artist Beyoncé
Don't buy it

By The Reveiwer Of Apps

The music video is great and all but the quality is so low it's terrible.

Amazing

By Doubled1999

Loved the whole thing...especially making it seem like she took her skirt off. Amazing

too much

By AMEMONKEY

I love the song but this video is too much too revealing

More AALIYAH Needed!!

By ZAVe of ZAVeSTUDIOS L.XAVIER K

Beyonce is a nice artist, but before there was beyonce there was AALIYAH, SO PLEASE EVERYONE WRITE LETERS TO ITUNES ASKING FOR MORE AALIYAH BECAUSE UNLIKE BEYONCE HAVING DOZENS OF VIDEOS HERE ON ITUNES, their are Only 2 AALIYAH videos on iTunes!! Well thanks for the help...!!!!! You all rock!!!!

DON'T HATE

By slowrolla_josh

Don't hate. Beyonce is the best singer in the world OKAY.

speechless

By akdonuts

don't hate! great song & music video

Stupid

By MRISA

She us great but hate music viedo and song

She's HOT

By I hate JBs

She's so hot.

yuiyh

By MEAT mE

vyhjunvyhjundxrrr

HMMMMM

By SportsFan#333

So thats why she gets dates?
Check Out The Music Video Discography From Artist Beyoncé
Beyoncé featuring Kelly Rowland, Michelle Williams and Solange Knowles