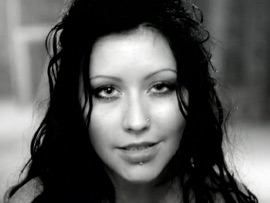 Music Video: The Voice Within
Artisit: Christina Aguilera
Genre: Pop
Release Date: 2003
Explicitness: notExplicit
Country: USA
Video Length: 4:33


Copyright: Christina Aguilera
Music Video For The Voice Within By Artist Christina Aguilera
Reviews For The Voice Within By Artist Christina Aguilera
Christina is AWSOME!!!

By JennaBug29

I love this song I can't get it out of my head I think she is the best female singer ever I love her and her voice and she so beautiful!! :)

Great Video

By JeffH.

I think she has the strongest vocals of all the female singers out today.She also looks better than any of them.Nice song and even better looking boobs.

Love

By X-tina lover

This is such a beautiful video and song i love it and soo happy itunes put it on but you are missing alot of x-tinas videos like dirrty fighter and nobody wants to be lonely feat ricky martin they should add thoses but love this vid

Love it

By Nick Hole

This song is beautiful. It gave me a lot of strength when I was going through a hard time and still does. I love the video too

Video without substance

By bubblybabs

Interesting... People trashed Lohan's 'Rumours 'video because it was all about her trying to look sexy and showing off her body yet no one is making the same comments here... I find this video very disappointing - it could have been a wonderfully dramatic and emotional video to match the song .. Instead, it's a 'look at my bouncing boobs' video... 5 stars for the song but only 1 star for the video....

Christina Is AMAZING!

By kaeleyjane

Please put the music videos for "Fighter" and "Dirrty" on itunes! Please, Please, Please. Click yes if you agree.

Beautiful

By rome_brews

Beautiful....But PLEASE get the Dirrty video itunes, its long overdue.

One of the greatest and most unique vids I've ever seen!

By LoveForPhotography

The fact that this vid was all done in ONE shot, with ONE camera blows my mind to begin with...just one continuous shot of just Christina. It has a very personal feel to it...and the classic B&W adds to that effect even moreso. Great vid!

PLEASE GET THE FIGHTER VIDEO

By butreally

I love her voice, she rocks as a singer and as a female who stands for equality, but I am ticked that Fighter isn't available as a vid. It is a true female empowerment song for those who have had to show a man the door. :)

Beautiful!

By dancer & singer

This song is just so beautiful! This song makes us realize that we should trust ourselves when all seems lost. It just has such a beautiful concept and really shows off Christina's range in her vocals.
Check Out The Music Video Discography From Artist Christina Aguilera