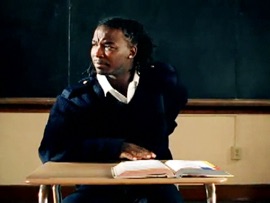 Music Video: Pop, Lock & Drop It
Artisit: Huey
Genre: Hip-Hop/Rap
Release Date: 2003
Explicitness: notExplicit
Country: USA
Video Length: 4:25


Copyright: Huey
Music Video For Pop, Lock & Drop It By Artist Huey
Reviews For Pop, Lock & Drop It By Artist Huey
Do my thang up mommy make it role

By Destiny;)

Pop lock it drip it I remember wen it first came out I use to pop lock it drop it all the time haha my sisters nd me will kiss do it for fun

Luv it

By ••••••••••••••

Funny bald guy

shnapers

By music lover !

oh snap this is beast !!

pop lock and drop it

By miskyli

does not download when i bought it so i waisted my gift card money with now 4.95 left

Unbelieveable!

By $Cristian$

Song is great but the video is nasty! Most of the chicks are fat omg what kind of guys like fat chicks!!!!!!!

I want to buy it!

By igetbuckets35

Pop, lock & drop it Pop, lock & drop it

Let's Dance!

By decent c.d.

For all you haters, the reason these aren't the most meaningful lyrics is because it's for a dance, not a strong message.

A Great Video By: HUEY

By jennabug1

This video rocks. Everyone likes this video. Plus I like the Background beat. It is very cool and keeps the song goining.

I luv dis song!!

By lalagrl108

Dis song is beast. Itz awesome.

This video is gay!!

By falloutboyluvr

OMG this video is sexest!! Girls never act like this it is just sick!!
Check Out The Music Video Discography From Artist Huey