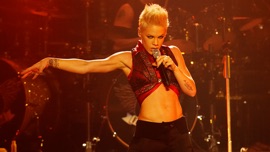 Music Video: Live from Wembley Arena London, England
Artisit: P!nk
Genre: Pop
Release Date: 2003
Explicitness: notExplicit
Country: USA
Video Length: 32:50


Copyright: P!nk
Music Video For Live from Wembley Arena London, England By Artist P!nk
Reviews For Live from Wembley Arena London, England By Artist P!nk
Awesome

By 13234

Awesome

THE BEST EVER

By flipflophiphop

I think this is the best concert i have ever seen and i didnt even see it live. P!nk puts on a great show. i need more stars because 5 isn't enough to describe this show.

pink at wembly

By dat3car

THIS IS THE MOST AWESOME WOMAN IN ROCK/POP HISTORY. HER SONGS HAVE TRUE MEANING AND SHE IS SO SEXY AND FUN. I WATCH THIS OVER AND OVER AGAIN. VERY VERY COOL AND WORTH EVERY PENNY!! I WAS A BIG FAN AND NOW I AM THE BIGGEST FAN SHE HAS ON THE EAST COAST. THE CHEMISTRY BETWEEN HER AND JUSTIN IS UNBELIEVABLE, ROCK ON

Thank U P!nk

By Laina U

These days emaciated girls make the best models, and constantly girls are under pressure to be impossibly thin. I am an athelete and I am often embarrassed by my big muscular calfs and thighs. Now whenever I am self-concious, I will think of P!nk, because she has muscles and she is hot! Thank you P!nk for showing girls what real beauty is - being yourself

She's Amazing!

By K00LAiD_CHiCK

P!nk has the most unique voice that i've ever heard. the albums she creates don't do justice to her voice when she performs live. i could watch this concert over and over again a million times. she's simply amazing :)

Lovn It

By ShannB

I have never rated anything on itunes before. But I can't believe how low the rating on this is! Pink is amazing live. If you are a fan you will love it!

This shows rocks!!

By burnt_247

Pink blew my mind... I was channel surfing and stumbled upon this playing on a new HD concert channel.. the dancers were hot and danced thier freakin' booties off, Justin, his Les Paul Guitar and those rippin' solo's... Janice Tanaka... Holy cow!!.. what a rad bass player..and if you don't watch it til the end.. well let's just say " You'll be sorry"!! Pinks voice was hot!! her whole band and crew of dancers, i wanna party with those freaks!! Thanks for blowing my mind Pink! and of course hot back-up singers ta-boot!

wow

By dannyzpic

i have been attending live show's since the mid 70's , i've seen all the greats u can think of, big and smaller acts. i attend alot of shows and various artist. i always liked her sininging but never dreamed she would have "the live talent". wow was i off, i would put her in my top 5 of all time. i would also recommend juliette and the licks, if you love this!

This concert will make you a P!nk fan!

By BrianW69

I am a huge music lover but hadn't paid much attention to P!nk until I happen to catch the last hour of this concert on an HD cable channel. P!nk's performance blew me away and I became an instant fan. Her music is fantastic but her live performance is incredible. The acrobatics that she does is amazing and seems effortless. She has a great supporting cast as well. Don't miss this one!

UNBELIEVABLE

By juanted

I felt like i was at the Im Not Dead Tour! I bought this and i havent stoped watching it! It is so unbelievably good and p!nk is just amazing, awsome, talented, beautiful, funny, and fun! Me and my friends were talking about how p!nk puts out a good message for all gay people out there and we love her even more for that! Thanks for the suport P!NK!
Check Out The Music Video Discography From Artist P!nk