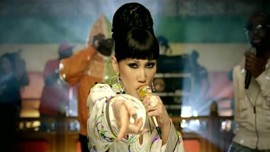 Music Video: China Wine
Artisit: Sun AKA Geisha featuring Wyclef Jean, Elephant Man & Tony Matterhorn
Genre: Reggae
Release Date: 2007
Explicitness: notExplicit
Country: USA
Video Length: 3:54


Copyright: Sun AKA Geisha featuring Wyclef Jean, Elephant Man & Tony Matterhorn
Music Video For China Wine By Artist Sun AKA Geisha featuring Wyclef Jean, Elephant Man & Tony Matterhorn
Reviews For China Wine By Artist Sun AKA Geisha featuring Wyclef Jean, Elephant Man & Tony Matterhorn
YAAAAY!

By Wet Fortune Cookie

Love this to death. buy it. only, young bret- how is this racist? its actually racist to say this is racist. whats wrong with black guys being attractted to chinese women? and that quote u found from the song means dirty dancing. honest mistake but still. plus these don't count as black guys cuz ur mixin them up w/ afro americans so don't confuse ppl. these r jamaicans. gawsh darrnnit. :-) . but i agree w/ u saying this is a good song.

this is a nice video

By aaliyahfan

its funny cause i am in korea now and most koreans dont like people from china and japan! but i think this video is so good, i love when she do the tworling thing with her hands and it look like she bows her head and pray. I can get my hands to move around that damn fast!lol, it look like she doing tie kwon doe!lol

Love it!!!!!

By Govna87

Love the original "Dutty Wine" by Matterhorn, so for Sun to caloborate with Matterhorn, E. Man and Wyclef is just amazing! Love the song and the video. Can't wait to hear more from Sun. iTunes, hurry up and get "Mr. Bill"!!! P.S. Young Bret, how is Chinese women being attracted to black men racist?! I think you need to look in the mirror buddy!

Awesome Video & Song

By Trevont

I love both very much....

Pure Fu*kery

By jam8ca

I just wasted $2.00.

Sun AKA Geisha ROCKS THE HOUSE!!!!

By SuperDuperSmooth

Love the song ... CRAZY ABOUT THE VIDEO!!! Who directed this??? Sun DOMINATES the screen and this collaboration with Wyclef Jean is just amazing!
Check Out The Music Video Discography From Artist Sun AKA Geisha featuring Wyclef Jean, Elephant Man & Tony Matterhorn
Sun AKA Geisha featuring Wyclef Jean, Elephant Man & Tony Matterhorn