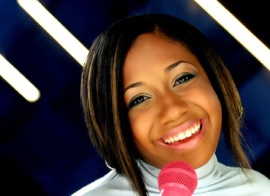 Music Video: Promise Ring
Artisit: Tiffany Evans featuring Ciara
Genre: Pop
Release Date: 2003
Explicitness: notExplicit
Country: USA
Video Length: 3:57


Copyright: Tiffany Evans featuring Ciara
Music Video For Promise Ring By Artist Tiffany Evans featuring Ciara
Reviews For Promise Ring By Artist Tiffany Evans featuring Ciara
Great Song!!!

By Dallas (Red)

This is such a great song!!! Especially in the summer time!! It's got a summer time feel obit and it's great!!

i love this song

By mariag_c

i love this song i love this video they both can sing and can dance. ciara and tiffany evans look sisters. ciara looks like tiffany evans big sister

Omg

By Zappman 101

I just luv this video I've watched exactly 20 times so far 10 times a day keep it commin tiff

I LOVE IT!!

By Jerrymycat55

best song i ever heard! shes a great singer and a good role model for kids all ages go tiff!!

Cute young love!

By homegurrll

A fresh pop song promised to keep you dancing! (Tiffany) Has a dazzling youthful smile that promises you to rock her lime green nails, bubble gum pink mic with matching lips and ah-dorable bob cut that made the Rihanna bob and Posh Spice bob (pob) jealous!

TIFF TIFF WAY TO GO GIRLFRAAAND

By julezzzzzzzzzzzzzz

omg tiff is amazing i loove her so much! this is the greatest vid. shes even better live which is MAAZINGGGGGGG LOVE YOU GIRLLLLL

Luv Itt

By Soprano2013

great song, luv her voice, cute video, worht da money =)

Love it!!!!!

By If Edward Cullen were real, I would beat him at poker.

She's so young and she's got more talent than Miley, Vanessa, and Ashley put together!!!! This song has a catchy beat but it never gets boring, and it has a little bit of everything thrown in there-pop, hip-hop, R&B, and rock. Also, I like how she doesn't feel the need to scream her lyrics out and have like, five electric guitars in the background. This video makes the song even more perfect-her clothes are cute, she's a great dancer, (I hope she dances more in her future videos!) and she's pretty and has an amazing voice to match. Rock on Tiffany keep using your talents!!!

GIRL FROM DIARY

By Frankie Roman

this is the little girl from tyler perry's diary of a mad black woman. she plays brian's daughter (tiffany) she also sings in the church choir. WOW! i am so glad to see her so successful.

Dis Video

By Klarnen

luv dis video!!!!
Check Out The Music Video Discography From Artist Tiffany Evans featuring Ciara
Tiffany Evans featuring Ciara