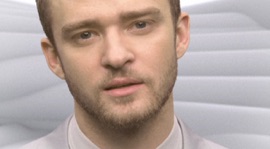 Music Video: LoveStoned / I Think She Knows Interlude
Artisit: Justin Timberlake
Genre: Pop
Release Date: 2003
Explicitness: notExplicit
Country: USA
Video Length: 5:27


Copyright: Justin Timberlake
Music Video For LoveStoned / I Think She Knows Interlude By Artist Justin Timberlake
Reviews For LoveStoned / I Think She Knows Interlude By Artist Justin Timberlake
Justin Timberlake

By wonderwoman360

I wish the whole song sounded like it does at the end where it changes tempo. Still love the video though.

You might want to see it on YouTube first

By pinkyrbi95

At first, it is SO cool!! After a while though, it got kind of annoying. It was good, but not something I'd want on my iPod. It wasn't horrid... just not that great.
Check Out The Music Video Discography From Artist Justin Timberlake