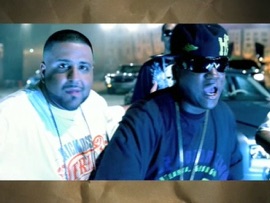 Music Video: I'm So Hood (Extended Version)
Artisit: DJ Khaled
Genre: Hip-Hop/Rap
Release Date: 2007
Explicitness: notExplicit
Country: USA
Video Length: 4:37


Copyright: DJ Khaled
Music Video For I'm So Hood (Extended Version) By Artist DJ Khaled
Reviews For I'm So Hood (Extended Version) By Artist DJ Khaled
im so hood

By JLReilly

if u feel me put ya hands my hood *BEEP* can ya stand

BUY IT

By WETHEBEST

this is a solid video and it is well played with the song. It just makes you feel so hood

Need Out Here Grindin'

By Whitestripesrule$$!$$

First, I'm So Hood i an awesome song. Plies cameo is my favorite, but I don't like Brown Paper Bag. Second, iTUNES NEEDS TO PUT OUT HERE GRINDIN' IN THE STORE! CLICK YES IF YOU AGREE!

its true. its true. i am so hood.

By 12345erin6789

whoawhoawhoa. my twitch is taking over because of this awsome song!! dude. it rules. buy it.... now.

Tight song!

By myspace.com/lilliannahbigpimpin

love the song & video!!!!!!!!!!!!!!!!!!!!!!!!

KHALED IS UNSTOPABLE!!!!!

By StayGreen

KEEP EM COMING BRO

get viodeos from his old album

By stokesboy

.

STupid

By tuuffy

This song is stupid and evryone sings it and i hate it i think DJ khaled is good but not this one big guy

h4h4h4.!

By Rockin_Prep

.17 s3c0ndzZ. wh173 b0yY.! h4h4h4.!

Yeah Right

By Tiffs

Yall are crazy this song is the sh%$. As soon as I heard it I was like I'M SOOOO HOOD. I don't even like rap and I can appreciate this. This thing is sick!
Check Out The Music Video Discography From Artist DJ Khaled