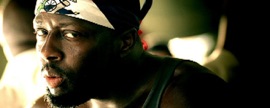 Music Video: Sweetest Girl (Dollar Bill) [feat. Akon, Lil Wayne & Niia]
Artisit: Wyclef Jean
Genre: Hip-Hop/Rap
Release Date: 2007
Explicitness: notExplicit
Country: USA
Video Length: 5:03


Copyright: Wyclef Jean
Music Video For Sweetest Girl (Dollar Bill) [feat. Akon, Lil Wayne & Niia] By Artist Wyclef Jean
Reviews For Sweetest Girl (Dollar Bill) [feat. Akon, Lil Wayne & Niia] By Artist Wyclef Jean
ehh

By chezhead

i like the song way better than i like this music vid

HAITI (AYITI)

By RuddDog

This is a great music vid Wyclef the man anybody who dosent know his story needs to check it out keep helpin AYITI baby!!!!!!!!!!!

really cool vid & nice song

By kame-kame-ha

great combo of singers/rappers - & Akon adds hi usual spark to this song

Awesome Video

By FooFoo93

If u like good music, & music videos buy this video

Not Too Shabby

By UMfreak

I'm not a rap fan but this song actually isn't too bad. I also like the fact that you see an acoustic guitar being used in a rap song. It's also nice to see that acoustic being played by somebody other than a white rocker dude.

So sad, but so true...

By MissOrange94

This has such a good beat, but I hate that it's about such a terrible thing. I love this song... it's great!

Finally t-pain on his own

By Haleigh94994509

All of t-pain is feet. But thank u for going on your own.

Video Isn't So Great

By tylrhnskr

I Like The Song Better...

hip hop my not be dead

By 2pac_is_alive

one of the best songs made in a while, akon's verse is definatly the best made in the last year. make more songs like this guys

I love it!

By igetbuckets35

the video is a bit queer, but I like it.
Check Out The Music Video Discography From Artist Wyclef Jean