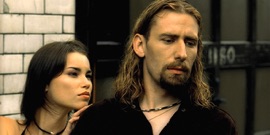 Music Video: How You Remind Me
Artisit: Nickelback
Genre: Rock
Release Date: 2001
Explicitness: notExplicit
Country: USA
Video Length: 3:47


Copyright: Nickelback
Music Video For How You Remind Me By Artist Nickelback
Reviews For How You Remind Me By Artist Nickelback
Sexy girl and crushed guy

By KariKariTyTy

Yep that's life for ya

Awful

By SpliffSmkr

This "band" is atrocious. If you enjoy Nickelback perhaps you'd like suicide. It's gotta sound better.

Ha ha. :)

By Maddiesonson

O my gosh!! He looks a lot like Nicholas cage!!!! And even more coincidentally, I freaking love both of them! And by the way emolover, he's freaking S•E•X•Y!

Nick cage

By Haloboy215

I agree he does look a bit like Nicholas cage

Nick Cage?

By Bldki

Haha is it just me or does Chad Kroeger remind anyone else alot like Nickolas Cage? One of Nickelbacks rare good songs, video is good too

Goooooooood

By Underfire 555

It was good but the Song is better by itself

Amazing

By Ivansgirl

This video tottaly fits with the song he is trying to explain that she make him show his real self

Omg!

By Emoluver13

Chad kruegers soo U•G•L•Y!!!!!!!!

Quoi?

By PoetrySweetheart

I don't get it.

ok

By clarkage94

the girl in this video is hot. other than that it wasnt too great. the song is much better just by itself.
Check Out The Music Video Discography From Artist Nickelback