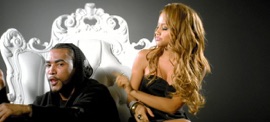 Music Video: Run the Show (feat. Don Omar) [En Espanol]
Artisit: Kat Deluna
Genre: Pop
Release Date: 2007
Explicitness: notExplicit
Country: USA
Video Length: 3:35


Copyright: Kat Deluna
Music Video For Run the Show (feat. Don Omar) [En Espanol] By Artist Kat Deluna
Reviews For Run the Show (feat. Don Omar) [En Espanol] By Artist Kat Deluna
best song ever

By mz boricua

i love this song i understood what she said even if i didnt i would luv it VIVA PUERTO RICO! =))

Coolio!

By fudgicle3000

this one is better than the english version! why must everything be better in spanish?

OK

By Double King Brady

AWSOME SONG! But ok video

Reggaeton Music is the best

By lil-Shortie-5-2010

this video is mucho gusto yo y ella or Kat yo entender yo oigo or oir kat yo know espanol do ustedes!

the best!!!

By jcgood

Kat DeLuna is awesome...This is one of her best songs because she will be the best of the best

AwSoM3

By DCKING95

This is a great song

YEEESSSS

By UWO CON Grad

I love this song and the video rocks! "whine up" was another fav by the ever talented Kat DeLuna!! SO WORTH THE MONEY!

Love this version

By Heroes fan #1

This version to the song is also really catchy. Her voice seems more powerful her, and its very good in spanish. Hope this song will be a hit- it deserves to be. click yes if you agree

Awesome

By Brattichic

I love this video. I think its a really fun video to watch

awsome

By laxgirl96

even though i have nooooo clue what kat is saying it's still wicked fun to listen to. great job kat!
Check Out The Music Video Discography From Artist Kat Deluna
Kat DeLuna featuring Elephant Man