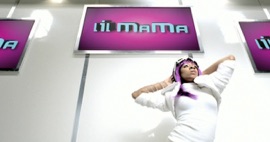 Music Video: Shawty Get Loose
Artisit: Lil Mama
Genre: Hip-Hop/Rap
Release Date: 2008
Explicitness: notExplicit
Country: USA
Video Length: 3:40


Copyright: Lil Mama
Music Video For Shawty Get Loose By Artist Lil Mama
Reviews For Shawty Get Loose By Artist Lil Mama
GO lil mama!!

By TheTennisPro123

this is such a good song!!! and vid!!!! its great to dance to!!!! this is her best vid!!!!! and song!!! click yes if u agree

I LOVE THIS MUSIC VIDEO!!

By dcpink5261

omg, little mama is the best, haha i luv chris brown and her together, i mean they are awesome!!...me and my friends listen to this song all the time..ITS PRETTY SHWEET

WE LOVE LIL MAMA!!

By aeloves123

Lil MAMA rocks in this music video SHE LOOKS POPPIN' (Like her lip glosss)

this is awsome!

By mikezsjidjd

this is one of LilMama's best song it's one of my favorite!

GET LOSE!!!!!

By jacob rogers

hey, lil mama, is really ccoool!!! her song lip gloss is smokin, and with chris brown in this one, he sings good, shes good, it has a funky sound to it!!!! very nice! shes a one of a kind. own style!
Check Out The Music Video Discography From Artist Lil Mama