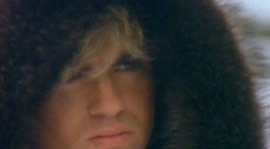 Music Video: Last Christmas
Artisit: Wham!
Genre: Pop
Release Date: 1984
Explicitness: notExplicit
Country: USA
Video Length: 4:37


Copyright: Wham!
Music Video For Last Christmas By Artist Wham!
Reviews For Last Christmas By Artist Wham!
Great video

By 🐢🖤💃🏽

Love George Michael!

Christmas.......

By casanova9

Christmas won't be Christmas with out you George......May you rest in peace,will continue playing it for years to come!!!!

WIll Never Go Out Of Style

By JohnathanSM

This timeless classic is one of George's best...one for which he will always be remembered. Thanks for all the love and memories, George!

My official Christmas song of my birth year!

By SDGlambert5045

I can't believe I bought the video to this Christmas song. This was the original version that was a popular holiday tune from my birth year of 1984. And now 28 years it still sounds the same. I cannot believe it when my mom remembered hearing it shortly before she gave birth to me. It's the same old thing 28 years later and still popular! I also bought the song alone on here more than a week ago!

Great Video

By salrang2002

This is a great video but the song is even BETTER! Love this song so much. I doesn't even have to be Christmas time to enjoy this song.

X-Mas Classic

By Bittersweet09

It wouldn't feel like X-Mas if I didn't listen to this song!!!

Thats my 80's

By Booken

So cool to relive those memories of the rebel years, many will never how cool the 80's was still a cool video.

very very cheesy!!!!!!!

By christmas-music-police

ultimate blue cheese!!!! don't buy it!!!! :(

Save thou manatees

By maddiegarvey

do you like manatees? i do
Check Out The Music Video Discography From Artist Wham!