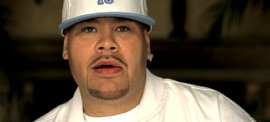 Music Video: Get It Poppin (feat. Nelly)
Artisit: Fat Joe
Genre: Hip-Hop/Rap
Release Date: 2005
Explicitness: notExplicit
Country: USA
Video Length: 3:31


Copyright: Fat Joe
Music Video For Get It Poppin (feat. Nelly) By Artist Fat Joe
Reviews For Get It Poppin (feat. Nelly) By Artist Fat Joe
Thank you GOD by James

By Spring&Fall

"I think this video have the most cameos out of all the videos! Thank you GOD for all the women that make every man worth while like these ladies!!!!!!" Swag out of this world

club banger

By my voice of reason

good song good video click yes for giet it poppin click no for lean back or the fat man dance!!!
Check Out The Music Video Discography From Artist Fat Joe
DJ Khaled featuring Akon, T.I., Rick Ross, Fat Joe, Baby & Lil Wayne