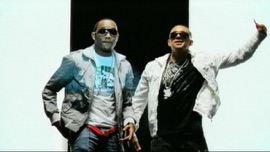 Music Video: Back It Up
Artisit: Mr. Evil
Genre: Reggae
Release Date: 2008
Explicitness: notExplicit
Country: USA
Video Length: 3:04


Copyright: Mr. Evil
Music Video For Back It Up By Artist Mr. Evil
Reviews For Back It Up By Artist Mr. Evil
garbage

By kingkrisstar

the sean paul version is good this mr evil kid is terrible! wack flows tired delivery. if you like it good for you. Is he sean pauls pa or something?

The Boss

By Justin Jam

This is an awesome song and video from true jamaican artists who show how talented they are

not feelin it

By C-Roca

I actually like both these artists, but not really feelin this track...the one sean has with farenheit is much better.

Best of the Best

By Musicluvakd

This song is mad original....and Dr. Evil is nice, but to be honest, he has had better songs.....STILL ITS NOT BAD....

Really!

By Vonniechic

What the hell is that.....was he holding his nose the whole time on that song. The music explains itself........it sucked.

Hmmm

By Lil' Fofifa

This video is aight... nice colors... okay looking dancers... BUT this guy Mr. Evil is just hurts my ears!
Check Out The Music Video Discography From Artist Mr. Evil