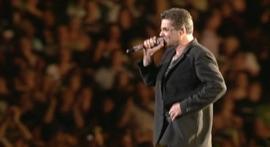 Music Video: I'm Your Man
Artisit: George Michael
Genre: Pop
Release Date: 2009
Explicitness: notExplicit
Country: USA
Video Length: 5:19


Copyright: George Michael
Music Video For I'm Your Man By Artist George Michael
Reviews For I'm Your Man By Artist George Michael
I'm your Man

By 80's Ian

OUTSTANDING!!! - would love to get any more G.M. concert/tour videos PLEASE!!!

More George! Thank you!

By Shore94

Thanks itunes for more George! I can never get enough. Im going to see him three times this summer !!! Im a lifelong fan and it just doesnt get any better George!!

George Rules!!!!

By AJM70

This will make true GM fans very happy! He's touring again to great reviews!!! Thanks again itunes for expanding your video library and reminding the world what a wonderful talent George Michael is!!
Check Out The Music Video Discography From Artist George Michael