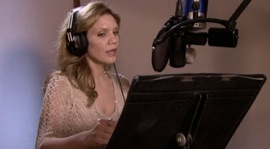 Music Video: The Wexford Carol
Artisit: Yo-Yo Ma & Alison Krauss
Genre: Pop
Release Date: 2008
Explicitness: notExplicit
Country: USA
Video Length: 4:20


Copyright: Yo-Yo Ma & Alison Krauss
Music Video For The Wexford Carol By Artist Yo-Yo Ma & Alison Krauss
Reviews For The Wexford Carol By Artist Yo-Yo Ma & Alison Krauss
WONDERFUL!!

By Smaugmike

This is the best holiday song I have heard in a long time, probably since 'That Spirit of Christmas' by th e late great Ray Charles. It really touches your soul. And, I'm a heavy metal / hard rock fan! Merry Christmas to all!

Beautifully Done!

By Coffeegirl09

This was done beautifully. What a wonderful combination of Yo-Yo ma and Alison Krauss! Thank you for singing about what the center of Christmas truly is and should be to us. Bravo!

Wow Wow Wow!

By PinkVixen

Alison Krauss has such a beautiful voice and i love the bag pipes. Great job Yo-Yo Ma. An Amazing choice.

the wexford carol

By sparkie40

it is simplistic in a very peaceful and artisic sense. allison krause is beautiful, and with one the most beautiful voices in any music genre. yo yo ma is an artist simply put, pure and natural. this is a beautiful celtic song, with really nice accompaniments by the bagpipes. i love it!

Alison Krause does it again

By sheri731

It seems that Alison's talent has no end. Her version of the Wexford Carol is magnificent - so beautiful to listen to. Yo-Yo Ma's accompaniment (and the excellent back-up orchestra) makes this extra special.

Beautiful, Haunting, and Inspiring

By pastorstoday

Got this with the free Starbucks "pick of the week." Put it on "repeat one" and let it play several times. Wonderful combination of Yo-Yo Ma's Cello, Alison Krauss' divine voice, and the bonus of bagpipes and turkish cymbals.

...am I missing something?

By sportsmed2001

Love both artists, and the song is beautiful. But to give Yo-Yo Ma top billing for base-line accompaniment on this video, when he is almost unnoticeable, seems odd.

Beautiful voice, violin, video!

By DGWrites2

This video is truly beautiful to watch and listen to. I got this as a free download from Starbucks and am interested in getting the entire holiday album of diverse guest artists performing holiday favorites. I love the Wexford Carol and Alison Krause sings it with her clear soprano voice, accentuated so nicely by the effortless violin playing of master Yo-Yo Ma. This is just the thing to listen to on a quiet, cold night in December.

Go-Go Yo-Yo!

By sheckyMerman

What a great video. Very much just folks who really care about creating a fascinating aural landscape doing what they do best, live in the studio. Being a hobbyist/fanatic songwriter & multi-instrumentalist, I love seeing music being created. Add to that a deep genealogy factor, maybe race memory: in the mists of time, as my ancestors migrated from Scotland into Ireland, the clan settled primarily in County Wexford. So it's sort of a family tradition, this tune, and I love the Celtic instrumentation in this piece. All this and Alison Krauss' beautiful voice as haunting as ever. I really was impressed at seeing her interpret the printed music "on the fly." Trust me when I say she nails it. Yo-Yo Ma has got to be one of the most engaging musicians ever, too. His love for music at its purest always comes through just watching him and the cello, which is a natural extension of his body. This is a beautiful piece of rare, but most introspective and lovely holiday music. Well worth it.

Wexford Carol review

By CB from SD

Fantastic! It makes me want the album for Christmas music. The combination of these artistis is truly wonderful!
Check Out The Music Video Discography From Artist Yo-Yo Ma & Alison Krauss
Silkroad Ensemble, Yo-Yo Ma, Rhiannon Giddens, Michael Ward-Bergeman, Reylon Yount, Kinan Azmeh, Jeffrey Beecher, Joseph Gramley, Colin Jacobsen & Kojiro Umezaki