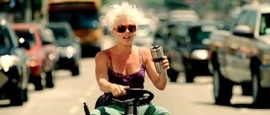 Music Video: So What
Artisit: P!nk
Genre: Pop
Release Date: 2008
Explicitness: explicit
Country: USA
Video Length: 3:45


Copyright: P!nk
Music Video For So What By Artist P!nk
Reviews For So What By Artist P!nk
Flyleaf

By Robo217800

Leaf//:Leaf/

Pink

By Hotgma2

I love "PINK" I got the pleasure see her perform in St. Louis, MO and would love to see her here again!!!!!

P!nk's So What

By Momuzic

The reviews are 100 percent correct. I just saw the two second sample. It looks hilarious.

....

By Allison=cool

Great song.. Weird video... REALLY P!NK, REALLY

Perfection.

By Kathryn 🎀

This is such a funny and great music video. 💕

So what

By 1. 33

Awesome video pink, I really think you have the best sound coming out of your mouth

AMAZING

By Country boy 101010

This is so funny! I luv it

Great

By Sparkgal

Buy it

EPIC

By Sonic 🔫

Kiss your hand ten times Say your crush's name ten times Post this on two other videos Look at your hand

Stupid Song & Video-

By creativeboi2010

She's better than these cheesy songs. I hate it when she tries to be funny or silly. Just sing a great song and keep it moving.
Check Out The Music Video Discography From Artist P!nk