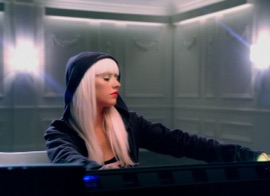 Music Video: Keeps Gettin' Better
Artisit: Christina Aguilera
Genre: Pop
Release Date: 2008
Explicitness: notExplicit
Country: USA
Video Length: 3:00


Copyright: Christina Aguilera
Music Video For Keeps Gettin' Better By Artist Christina Aguilera
Reviews For Keeps Gettin' Better By Artist Christina Aguilera
Love Christina, Boring Video

By Elizabeth Scarlett

Never-A-Buy!

Ehh....

By KoolKat(a.k.a awesome)

She is not that good of a singer. Sorry Christina, but u shud just stick 2 the voice....

xtina keeps getting better

By rubixscubes

this video and song are just perfect cause a good video doesnt have to be the typical choreography scene with dances in the back!! she made it her own way! and it was all about her son and the future!

Cool

By #1 usher fan

Kiss ur hand 10 times then say ur crushes name 15 times then post this on two reviews and look at ur hand

What's gettn worse people!!!?

By Csusm-cougar

I don't get it she has her own supergirl and everything ! The point is she keeps gettn betta!!!!

Keeps getting worse!

By Jenni Whoohoo!

Christina started being a amazing artist in the beginining of her career but then she looks like a lady gaga in this video and in the Not Myself Tonight video. Dirty behavior. SRY but it's just a waste of money

Eh

By mileyfan101222

This song isn't all that I don't like it too much auto tune . Plus she looks like gaga in this video

VIDEO NEED WORK

By SocalocaMiami

What kind of ridiculous video is this? Bring back "dirrty" PLEASE. Loved her outfits in the video though, and the song wasn't bad.

The best

By Juanel29

Amazing.....

Weird

By alliepeep

She looks like lady gaga in this video.
Check Out The Music Video Discography From Artist Christina Aguilera