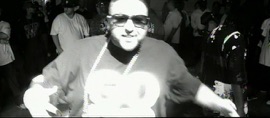 Music Video: Go Hard (feat. T-Pain, Kanye West)
Artisit: DJ Khaled
Genre: Hip-Hop/Rap
Release Date: 2008
Explicitness: notExplicit
Country: USA
Video Length: 4:33


Copyright: DJ Khaled
Music Video For Go Hard (feat. T-Pain, Kanye West) By Artist DJ Khaled
Reviews For Go Hard (feat. T-Pain, Kanye West) By Artist DJ Khaled
Khaled

By KiDCuDI

To all of you saying he needs to stick to producing, he doest produce these songs. The Runners do. Khaled just organizes it, and yes i agree he is annoying and needs to stop but some songs the artist he features put out are hot. Kanye and Pain kill this song no doubt

dj Khaled does nothing

By reviewer4444

kanye West and T-Pain are the greatest but DJ Khaled is just yelling and proclaiming his name to the masses, he needs to learn to rap or just make a record company.

defitly t pain & kanye west go hard

By JLReilly

awesome!!!!!!!!!!!!!!!!!

Great song

By #1redsox fan

this song is ridculas dude kanye is amazing sick lryics and t pain brings it home

Awesome Song!!!!!!

By @Oche_Kabibles8

The whole song is incredible and excellent hook by T-Pain... good lyrics from kanye west... But..... Khaled needs to shut up during the song and just stick to producing it... He needs to worry abour making songs, not getting in the cameras way of the real rappers

no mess

By song summoner fan

im putting a 3 beacuse dj khaled bearly even sings in this song its mostly kanye and t-pain the song sould be featuring him not kanye and t-pain

The Best song Ever....

By Bo_Haroun

This is The Best song and music video for T-Pain, Kanye & Khaled...it's so hood!!!..."We Da Best"

MR. LUKE SKYWALKER

By MR. LUKE SKYWALKER

PRETTY GOOD!!! KINDA TOO "BOLD" THOUGH...BUT IT HAS A GOOD BEAT TO IT AND THE RAPPIN IS 2 GOOD.

The songs alright

By Lil Babe

but Chamillionaire killed it on Mixtape messiah 4. don't believe me check it out yourself

THIS SONG IS STRAIGHT KILLA!!!!!!!

By KINGOFKINGSQB

AS SOON AS I SAW THIS VIDEO I WAS LIKE WHOA!!!!! GOTTA CRANK THIS ALL DAY!!!!!
Check Out The Music Video Discography From Artist DJ Khaled
DJ Khaled featuring Akon, T.I., Rick Ross, Fat Joe, Baby & Lil Wayne