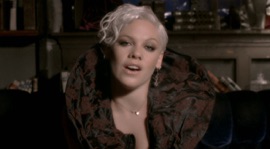 Music Video: Sober
Artisit: P!nk
Genre: Pop
Release Date: 2008
Explicitness: notExplicit
Country: USA
Video Length: 0:00


Copyright: P!nk
Music Video For Sober By Artist P!nk
Reviews For Sober By Artist P!nk
interesting

By yelrafregnig

i saw thanks for sharing and it is really good that is a must watch so is this

LOVE, LOVE, L~L~L~O~O~OV~V~V ~E~E~E this whole song!!!

By countrycountrycountry

:)

P!NK is the Best!

By JUSTIN!!!!!! :D

Nuff Said!

Dark

By Random Person the Second

This is the darkest video and song that I have ever seen and heard. But it's simply amazing, I think anyways. I just get this intense feeling of emotion whenever I see the video or listen to the song. I just find it so amazing to watch and listen too. Love it!

Absolutely Amazing!

By firefaery

P!nk is the only woman on earth who can make out with herself and get away with it! I love it! She's so daring and brave and she serves as a good inspiration for teenage girls! Bravo, P!nk! Bravo!

this is the best video period!

By mlilback

Pink is the most amazing artist. I never thought anyone could convey the feelings I felt. I can't believe this video didn't win every award possible. No one tells it like it is like Pink.

Yaa p!nk!

By Bob Andrews!

Why are all you guys saying you don't like the part where she makesout with herself are you guys gay? But anyways p!nk your awesome and do is this video!

Beautiful

By GSLIDE

This video was beatiful at potraying the acholic and sober side of of a women

sober rating

By frank24e

This is an Awesome video I LOVE IT so worth the buy and two bucks come on that is ridiculous cheap i can watch it over and over plus the song and pink are amazing!!!!

Sober!

By CaseyMed

Love This!
Check Out The Music Video Discography From Artist P!nk