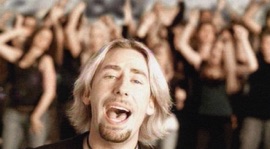 Music Video: Gotta Be Somebody
Artisit: Nickelback
Genre: Rock
Release Date: 2008
Explicitness: notExplicit
Country: USA
Video Length: 4:11


Copyright: Nickelback
Music Video For Gotta Be Somebody By Artist Nickelback
Reviews For Gotta Be Somebody By Artist Nickelback
I know im somebody GIVE IT UP FOR NICKELBACK!

By MUGGEDXFLY

Great song to listen to when im down and depressed I LOVE IT

The bomb ,like no other

By Anthony44449

Like no other band all songs are good but this song might be the best

GOOD BAND

By curry harris

This song is awesome Nickelback!!!!!

Rocklover

By Great rock lover

This was it. The song that got me hook, line, and sinker. Soft yes but a work of art none the less. Keep it up Nickelback.

Awesome !!!!!!

By Iloveshauna

Awesome song, gives me chills, don't know why but it's very moving.

Awesome Viedo

By totallyrock101

This is the best viedo ever!!!!!!!!!!!!!

Ok video but good meaning

By skilletrules

I agree that the video has nothing to do with the song, but i still like it. The song actually has a point to it unlike most of their songs. The song goes kinda deep into personal issues for some people and i think that's a welcome change to most of their music.

Gotta be somebody (nickelback)

By Griselle76

I buy this video and the music sound very low!!!!

gnarly

By wellsheeeeit

The song is awsome and so is the vid. and i'm not complaning but when the ground cracks .... what happens?

Pbbbblllltttt

By Slayerx847

The singer looks gay but not a bad song.
Check Out The Music Video Discography From Artist Nickelback