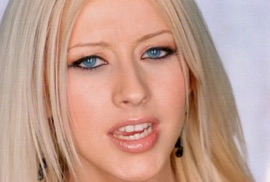 Music Video: I Turn to You
Artisit: Christina Aguilera
Genre: Pop
Release Date: 2000
Explicitness: notExplicit
Country: USA
Video Length: 5:18


Copyright: Christina Aguilera
Music Video For I Turn to You By Artist Christina Aguilera
Reviews For I Turn to You By Artist Christina Aguilera
THUNDERPUSS

By charleyf

I don't know where ITUNES got the idea that this is the big red remix to this song. This version of the song is the THUNDERPUSS Mixshow Remix. If ITUNES expect us to spend money on their website they should get it together!

r u sure this is christina aguilera?

By Caleblove2009Mom

she looks like avril lavigne!click yes if u agree

ew

By pie?

this is definetly NOT worth ur money! if u no whats good for u u wont buy it...

I'm Digging this version!

By TheJLT

Love the original, but this version is not bad.

no

By abs2014

no way is this worth your money. is this even her?
Check Out The Music Video Discography From Artist Christina Aguilera