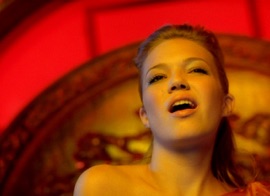 Music Video: In My Pocket
Artisit: Mandy Moore
Genre: Pop
Release Date: 2004
Explicitness: notExplicit
Country: USA
Video Length: 3:38


Copyright: Mandy Moore
Music Video For In My Pocket By Artist Mandy Moore
Reviews For In My Pocket By Artist Mandy Moore
Awesome!!!

By outlineg6

Mandy Moore is a good singer. I really like this song. This song is off of her 3rd album in 2001, I encourage you to buy the album. There's a lot of good songs on her 3rd album self-titled " Mandy Moore ". She's so unique and different and she basically rocks in so many ways. She is fantastic!!!!!

Awesome Video! Mandy Moore Ruled Back In The Day!

By Fireteam

This song was so awesome & the video was multicultural & so cool to watch! It's worth seeing!
Check Out The Music Video Discography From Artist Mandy Moore