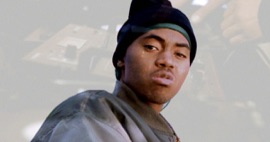 Music Video: Nas Is Like
Artisit: Nas
Genre: Hip-Hop/Rap
Release Date: 2004
Explicitness: notExplicit
Country: USA
Video Length: 3:58


Copyright: Nas
Music Video For Nas Is Like By Artist Nas
Reviews For Nas Is Like By Artist Nas
Krak

By Krakaveli

Fukin classic

Nas just coming out raw

By Rasta T59

There nothing like this video takes u back into the 90's when hip hop was coming out fresh and, raw nas when he just started.

Nas....

By Mike111111527049472

At his best, this is real hip hop!

The Illest MC Ever!!!!

By K-spade

Lyrics and metaphors make you think, and the beat was produced by Primo too? no doubt that this is the most slept Hip Hop Classic made by the most underrated lyricist and the most Legendary NY Producer. GET THIS SONG AND SUPPORT REAL HIP HOP!
Check Out The Music Video Discography From Artist Nas