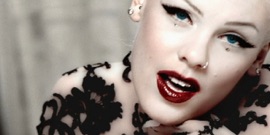 Music Video: U + Ur Hand
Artisit: P!nk
Genre: Pop
Release Date: 2006
Explicitness: notExplicit
Country: USA
Video Length: 3:33


Copyright: P!nk
Music Video For U + Ur Hand By Artist P!nk
Reviews For U + Ur Hand By Artist P!nk
great song

By *~*Christine*~*

me&my friends luv this song. the vid makes me laugh, i luv the part where shes gonna send him that package of her pics&some vasaline! P!NK is awsome, dont care what anyone else says (:

Pink is great!

By Dancerfreak614peacehappy

She has got lots of style. This song is fabulous and the video shows the image outside of the song. Power is shown with a sign of having fun and just wants to have one good night. Poetry class is written all over with a hint of Pink. U+Ur Hand is A. Its authentic and shows everything nice. Pink is Back and is still the great of punk-rock.
Check Out The Music Video Discography From Artist P!nk