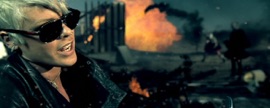 Music Video: Funhouse
Artisit: P!nk
Genre: Pop
Release Date: 2009
Explicitness: notExplicit
Country: USA
Video Length: 3:06


Copyright: P!nk
Music Video For Funhouse By Artist P!nk
Reviews For Funhouse By Artist P!nk
:)awesome!!!!!!

By Alu234

I LOVE P!NK!!! I HATE CLOWNS!!!

Wow :) :) :) :) :) :)

By Jes loves Amanda

U rock P!nk!!!! Ur one of da greatest singers out there! Love da song, creepy, but great! Hannah Montana would never think of burning a funhouse, she'd have a fricking concert in it. Hope I helped u decide -JT (awsome person)

..

By pineshadow

...... This rox great song.

Scary

By Rookie bob Jr.

The clowns are scary but other than that it's good.

Looooove me some P!nk !

By IlOvEmUsIc2010

I looooove P!nk, and this video goes so perfectly with the song!  As everyone stated, the special effects and just the idea for this video is outta this world!!! I love Pink's style in this video; It's very edgy.  It's also really cool how Toney from No Doubt made an appearance in this video. ROCK ON P!NK!!!!

Ah, random, funny, FUN! <3

By HappyGentoo

I love this song. I love the way she prances around and BURNS THAT SUCKER DOWN!!! :)

Awesome!!!!!!!!!

By jgalkin14

Best special efects eva. It's so cool to watch the Behind The Scenes of the "Funhouse" video with the bonus on My "Greatest Hits... So Far" Deluxe Version. Buy it now. It's sooooo awesome + if u want to explode this is the perfect video.

Omg

By X-tina lover

Omg i loved this song scence i boyght her album but i never nrw she had a video for it until like 5 secs ago when i saw on vevo adam lamberts intro to funhouse and was like hmm i wonder i am sooo buying this right now i love pink

Ahhaahaahaha wow :) :)

By Sherry1208

Wow scary but in a cool way ...



By kaitlinrad

Best vid i ever saw! Buy it if u have a brain!
Check Out The Music Video Discography From Artist P!nk