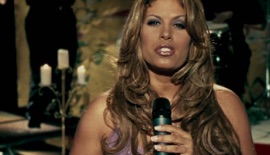 Music Video: Por Ese Hombre
Artisit: Brenda K. Starr
Genre: Latin
Release Date: 2009
Explicitness: notExplicit
Country: USA
Video Length: 4:57


Copyright: Brenda K. Starr
Music Video For Por Ese Hombre By Artist Brenda K. Starr
Reviews For Por Ese Hombre By Artist Brenda K. Starr
Awesome!

By Superman12200

Love this song... One very special man once interrupted me as I was listening to this song and I will never forget that. I always wondered if he was trying to tell me something or if he liked the song also. Wish I could some day see him again so I could ask him personally... Luv ya Brenda & Tito...

Brenda was and will always be the best.

By moquis

Itunes you missing more videos!?? she has old school videos.......

Por Ese Hombre

By Maria Simpson

I Love this song, she has a wonderfull voice, me encanta gracias por bajar este video!
Check Out The Music Video Discography From Artist Brenda K. Starr