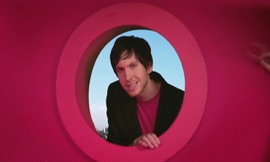 Music Video: Ready for the Weekend
Artisit: Calvin Harris
Genre: Dance
Release Date: 2009
Explicitness: notExplicit
Country: USA
Video Length: 3:45


Copyright: Calvin Harris
Music Video For Ready for the Weekend By Artist Calvin Harris
Reviews For Ready for the Weekend By Artist Calvin Harris
WHAT THE HOTSAUSE?

By Megmilo1002

What the heck is this song about? It's like a bad version of "It's Friday"

Very Creative

By CR640

This video rocks!

ready for weekend

By maleman #1

love the video . creative song is awesome loved it first time i heard the song and saw the video.

rocks rocks rocks!!!

By musicINmotioN.

this calvin boy thin is a killer he is just a gr8 dj

calvin harris is the future

By djcflo

this guy is killin it right now! do your thing!!!
Check Out The Music Video Discography From Artist Calvin Harris