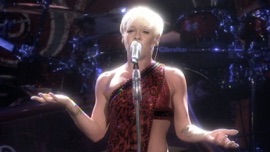 Music Video: Who Knew
Artisit: P!nk
Genre: Pop
Release Date: 2009
Explicitness: explicit
Country: USA
Video Length: 3:18


Copyright: P!nk
Music Video For Who Knew By Artist P!nk
Reviews For Who Knew By Artist P!nk
Heh.

By HappyGentoo

Thumbs up for the hair flips?

Toatally Awesome!!

By #| p!nk fan

Ok, P!nk in my opinion, is a very great singer. This is one of my FAVORITE songs. I have it in my iPod also! Not a waste of money! You'll love it, I promise! (:

Hey

By Cubby Lover

This was kinda cool.
Check Out The Music Video Discography From Artist P!nk