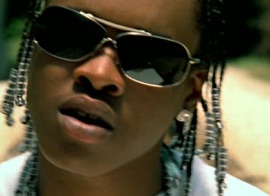 Music Video: A Bay Bay
Artisit: Hurricane Chris
Genre: Hip-Hop/Rap
Release Date: 2007
Explicitness: notExplicit
Country: USA
Video Length: 0:00


Copyright: Hurricane Chris
Music Video For A Bay Bay By Artist Hurricane Chris
Reviews For A Bay Bay By Artist Hurricane Chris
wow..

By homiegslice007

everybody sayin hip hop dead and this is sad.. face it this song is fun to listen to you know it.. now even all these 16 year old white girls are like "this is not music"..quit bein so serious!! music is whatever the artist wants it to be u wana learn something valuable read a book this is club bangin music and its not bad either.. hurricane chris made millions because of you foolish haters.. support/help all unless they disrespect.. then help those who disrespect..! keep doin u hurricane chris

Horrible

By WaterBoy Monkey

One word horrible, not real rap, fake and not worth my money, hurricane chris neeeds to get hit with a hurricane.

ha

By dH1r

black guy thinks he can dance and sing

haha

By 11111moo112

this makes me laugh

A Gay Gay

By TupacalypseNow

Ignorant

R.I.P. Hip-Hop

By jayh159

So this is what Rap/Hip-Hop has turned out to be???
Check Out The Music Video Discography From Artist Hurricane Chris