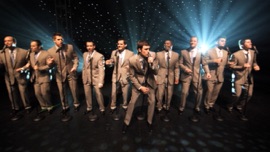 Music Video: Tainted Love
Artisit: Straight No Chaser
Genre: Pop
Release Date: 2010
Explicitness: notExplicit
Country: USA
Video Length: 3:03


Copyright: Straight No Chaser
Music Video For Tainted Love By Artist Straight No Chaser
Reviews For Tainted Love By Artist Straight No Chaser
Love

By twilhelm

I first heard these guys when i was attending college in Bloomington, they rocked then, and they still rock now!!!

Mom

By dylan spangler

My mom showed me this song and I did a actual flip!!!!!!!!!!!!!!

Fun

By RussHB

Another great effort by Straight No Chaser. The video is fun and highlights their great sound.

Pretty cool!

By twenty1aces

Love the group and their renditions. Video was pretty cool. It wasn't over the top or anything like that.
Check Out The Music Video Discography From Artist Straight No Chaser