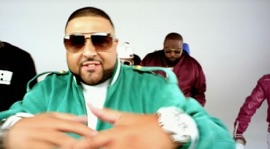 Music Video: All I Do Is Win (Remix) [feat. T-Pain, Diddy, Nicki Minaj, Rick Ross, Busta Rhymes, Fabolous, Jadakiss, Fat Joe & Swizz Beatz)
Artisit: DJ Khaled
Genre: Hip-Hop/Rap
Release Date: 2010
Explicitness: notExplicit
Country: USA
Video Length: 5:20


Copyright: DJ Khaled
Music Video For All I Do Is Win (Remix) [feat. T-Pain, Diddy, Nicki Minaj, Rick Ross, Busta Rhymes, Fabolous, Jadakiss, Fat Joe & Swizz Beatz) By Artist DJ Khaled
Reviews For All I Do Is Win (Remix) [feat. T-Pain, Diddy, Nicki Minaj, Rick Ross, Busta Rhymes, Fabolous, Jadakiss, Fat Joe & Swizz Beatz) By Artist DJ Khaled
jricherz

By Richerz

hell to the yeah!!!!!!

Nicki Minaj...:)

By emily yacoub

Love you Nicki.

Not good......

By darth vader 109

I liked the origional version better...

COOL

By AbuzaSarutobi

NICE!!!!!!

Omg

By SaySay9

Original is better

Wow.

By pannhap

What is this thing doing in the Indie Spotlight? Please get it out of here.

Indie spotlight!!!????

By BekahSometimes

I listen to everything and this guy is not special he just throws his name in every bs over rotated hiphop pop song. Annoying an not talented. And please remove this album from the indie spotlight def not in the right category

Amazing

By Brothermanmack

This song kills. They completely set a new high in this song. Y'all haters rlly need to chill tho. U know this song dominates the original version. And plz busta rhymes sets a new meaning to life in it.

Ugh

By Maddyrox987

This song was annoying the first time it came out.. But just wondering why is this on indie? Shouldn't it be with rap or something?

This is such a douche bag song!!!!!

By Mikehawkrulez

Dj khaled is so whack with his beer belly he needs other people to make him look cool,Rick Ross has that beard to cover his quad chin and this is a douche bag song!!!!!!!
Check Out The Music Video Discography From Artist DJ Khaled
DJ Khaled featuring Akon, T.I., Rick Ross, Fat Joe, Baby & Lil Wayne