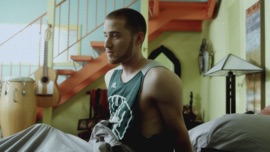 Music Video: Please Don't Go
Artisit: Mike Posner
Genre: Pop
Release Date: 2010
Explicitness: notExplicit
Country: USA
Video Length: 3:16


Copyright: Mike Posner
Music Video For Please Don't Go By Artist Mike Posner
Reviews For Please Don't Go By Artist Mike Posner
hmmm...

By RChelicopter

Lil Wayne looks like he does not want to be in the music video

great beat

By Bigdicwilly

Hey did fool me I thought it was justin bieber my baD Not only he attended the school witch happens to have my favrite basketball team Go Blue Devils But he does have vocals great song and keep up the good work !

Worth

By Kevin Boston

I luhhhh dhis song bruhh

Great song

By (RVCA)ARod

Blonde girl makes it better

Awesom

By Deathmouse

Very catchy song

Soul in the Voice

By Kelonu

Old timers always say new music doesn't have soul anymore. Mike Posner has a genuine soul about his voice. Not forced. Smooth and catchy. I see him a a certified star. Looking forward to many more hits.

DUKE!!!!!!!

By Pager95

Whoooo!!!!! Go Duke!!! Awesome song!!!!!

Great Video, Great Concept

By gchristian388

I love this video. The concept goes well with the song. The editing and effects were done very well. I still wonder how they do it so perfectly.

Love it

By Bad abb

Soooo awesome I just love his songs

?

By <3sweetcarolime

They film this in Pedro?
Check Out The Music Video Discography From Artist Mike Posner