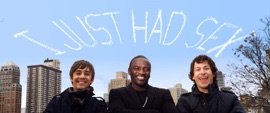 Music Video: I Just Had Sex (feat. Akon)
Artisit: The Lonely Island
Genre: Comedy
Release Date: 2010
Explicitness: notExplicit
Country: USA
Video Length: 2:49


Copyright: The Lonely Island
Music Video For I Just Had Sex (feat. Akon) By Artist The Lonely Island
Reviews For I Just Had Sex (feat. Akon) By Artist The Lonely Island
Le funny song

By NinjaBlox

Angang, what did u expect from a video titled "I Just Had Sex"?

funny

By Crazyforcolbiecailliat

very funny I JUST HAD S.E.X

Funny

By Tyler Grove

Best Video Evere especialy when it envolves sex

Jakob199

By Jakob199

cool song untill you start hearing 5th graders running up and down the streets screaming "I JUST HAD SEX AND IT FELT SO GUUDDDE!!" Same applies to oppan condom style (yes I said condom)

price?

By edog straus

why is this one $1.49 and the other one is $1.99

Hate it.

By xxstevennguyenxx

Hate this song. This song makes young kids listen to it -__-

Lol

By Just have sex

This is right I literally just had sex my wife is preg it felt nice and awesome

i just had sex

By Shdgdhdhshsh

i kinda like this song and i think im goin to buy the karaoke version cause i love the rythym

I just hAd sex

By Pukealaka

It is a good music video

Poooooooh!):

By Wahhhhhh

I love this video so much. But when I bought it. It deleted itself. I only watched it once. And I didn't get my money back.
Check Out The Music Video Discography From Artist The Lonely Island
The Lonely Island, Akiva Schaffer, Jorma Taccone, Katreese Barnes & Asa Taccone