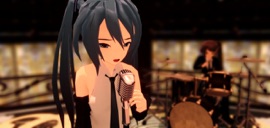 Music Video: glow (feat. Hatsune Miku)
Artisit: ねるどら
Genre: J-Pop
Release Date: 2011
Explicitness: notExplicit
Country: USA
Video Length: 5:37


Copyright: ねるどら
Music Video For glow (feat. Hatsune Miku) By Artist ねるどら
Reviews For glow (feat. Hatsune Miku) By Artist ねるどら
Wow . . .

By Pikachu8950

Sounds like a sad song cause it sounds emotional. (Mostly Luka is emotional) Go Miku!

Smooth & Relaxing music!

By Link0002

AMAZING music!!! Together, Miku's voice and the music flow very smoothly. I had to check and see if it was actually Miku's voice the first time I heard this song.

great

By kain of the sand

this is a great video specially if ur chilling after work

Wow~!

By lemonypopcorn944

I love this song~! They must be a really patient person with MMD!!

Happeh birthday Miku! <3

By Mike448

Unbelievable!!!!!!! Video quality!!!!!!! :O

Happy 4th birthday Miku.

By rvongkhamphio

Beautiful Video, Nuff said.
Check Out The Music Video Discography From Artist ねるどら