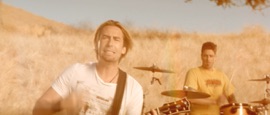 Music Video: When We Stand Together
Artisit: Nickelback
Genre: Rock
Release Date: 2011
Explicitness: notExplicit
Country: USA
Video Length: 3:13


Copyright: Nickelback
Music Video For When We Stand Together By Artist Nickelback
Reviews For When We Stand Together By Artist Nickelback
Amazing song love it

By Sexii Queen

This is a great song i love it i do agree they should write some more of these kind of music inspiring like

Thats that's that's what I'm talking about

By FLURGY (:

This is a great song that is really inspiration

Awesome

By Katcircus58

A song for our times and all times!

Amazing

By Cggyjhfty

Please keep writing songs like this Nickelback. Not really dirty songs

Best song of all time

By squirrly4u

Even people who hate Nickelback cannot say this is a bad song. The message is amazing and it is so inspirational. Also to the guy who said a twelve year old girl is holding her son, I think that was her brother but I've been wrong before...

WHY CANT THE WORLD STAND TOGETHER

By MUGGEDXFLY

ITS A VERY INSPIRATIONAL SONG I LOVE THIS SONG

kill it with fire

By l'agent m22

and don't forget to give phil collins back his 1980's mtv brand big reverb drum machine when you're through with it.



By Andrew99867

This song is sick  I love them

Here and now

By Cushill

They have done it again! Awesome song and awesome album! Can't wait for the tour!

nickelback

By bamagirl1620

love this group, especially Chad, love their music and what they stand for!
Check Out The Music Video Discography From Artist Nickelback