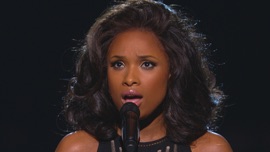 Music Video: I Will Always Love You (Live At the 54th Annual Grammy Awards)
Artisit: Jennifer Hudson
Genre: R&B/Soul
Release Date: 2012
Explicitness: notExplicit
Country: USA
Video Length: 3:09


Copyright: Jennifer Hudson
Music Video For I Will Always Love You (Live At the 54th Annual Grammy Awards) By Artist Jennifer Hudson
Reviews For I Will Always Love You (Live At the 54th Annual Grammy Awards) By Artist Jennifer Hudson
songbird in her own right

By shirlga

Jennifer is the best choice to sing a song like that.

Call

By Hopid

Raetyoip

Yesss

By Lazaro Bull

Sencillamente grandiosa

Sad

By Zezar006

It is so sad how people are making money off of Whitney Houston's funeral they should be a shame.

I Will Always Love You

By FrostyandColdsnap

At age 65, just recently purchased my AMAZING new phone and am learning more and more each day! Love i-Tunes-already have 100 songs on my Playlist. This, however, was my first video purchase. It just seemed "right" that this compelling video be the first purchase for me. Tears, of course, down my face... Have always been a fan of the enormously talented and beautiful late Whitney, but this video has now made me a huge fan of Ms. Hudson. Her face/the emotions as she sang this song. I will watch it a million times over. The price seemed too "low" for this treasure. Also, this is my very first review. I somehow felt I owed it to both these amazing women to do so...

Impossible

By Lehtola5

It's almost like impossible to hit that note I will always live you I mean that song is really hard to sing!

YES!

By rella31

She needed that when she was alive. People forget that celebrities r human too.

Puh-lease...

By Shelly49

She's nothing but a Whitney wannabe

Marvelous

By Lixter

This is great

Simply Beautiful...

By Quest Crew2

and for all of you who voted one and two stars...you're either bitter or deaf.
Check Out The Music Video Discography From Artist Jennifer Hudson